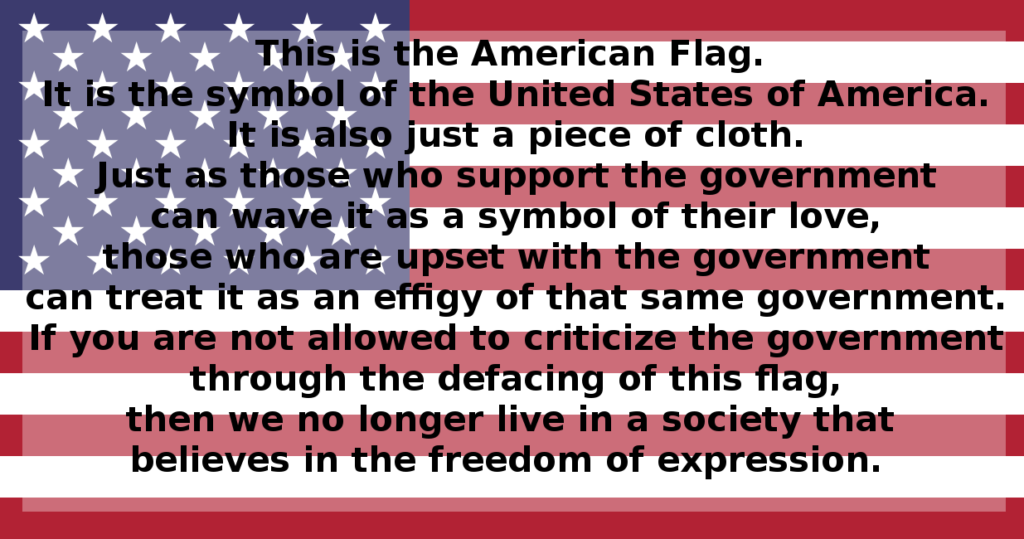 A short while ago, I posted this image on Facebook that stated that people have the right to deface and burn the American Flag. I stand by that statement. Why? Because it is true. For that, I have been called an idiot, a traitor and a terrorist. They say this because I associated the flag with the government and not the nation. Why did I choose that phrasing? Because the true symbol of this nation is not the flag but the Constitution. The Constitution is the very document that created this country, the very document that our forefathers died to allow us to create this nation.
These people who called me an idiot, traitor and terrorist are upset that people displeased with the government would burn, deface or tread upon the American flag, yet they have nothing to say about the people elected to office, who swore with an oath to uphold and defend the Constitution, who tread upon and burn the Constitution.
Our country is dying because we sit idly by and allow the true liars and traitors to sit in office and destroy our constitutionally protected rights, not constitutionally granted rights, protected rights. Our Congress and Presidents over the years have stripped the Constitution of its original meaning by trampling our 1st, 2nd, 4th, 5th, 8th, 14th and many other protected rights. Yet because those elected officials wave that American Flag and shout patriotism from the capitol steps, a majority of people in this nation turn a blind eye to their traitorous acts.
Yet, I am the liar, idiot, traitor and terrorist because I speak out against this and support others who do as well.
Rally to your flag if you wish. That is your right. But for me, I will rally to my Constitution.